Printing and dyeing wastewater is a type of industrial wastewater that is difficult to treat. It has the characteristics of large water volume, high content of organic pollutants, large alkalinity, and large changes in water quality. The wastewater contains dyes, slurries, additives, oils, acid and alkali, Fiber impurities, sand substances, inorganic salts, etc., can be reused only after the organic matter and chromaticity in the wastewater are deeply treated. A large amount of waste water discharged during the treatment process will be processed by the filter press after undergoing biochemical or physical and chemical treatment.
Traditional treatment

The traditional treatment method is to add about 5% lime powder and enter after flocculationFilter pressPress filter, the water content of the filter cake after treatment is below 60%, and the water content of the filter cake without lime powder treatment is about 80%.
Use Sudong reinforced polypropylene plate membrane filter press:
No need to add lime powder;
The water content can be reduced to below 60%.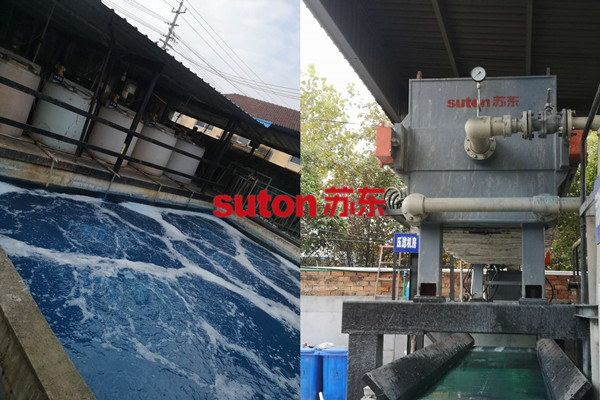 Sudong filter press at the customer's printing and dyeing wastewater treatment site
A customer in the printing and dyeing industry uses the XAYZG100/1000-U produced by Sudong Company, and only needs to adjust the flocculation ratio appropriately. The feed pressure can be directly fed at 0.8Mpa. When the feed is finished, the filter residue is filled with the filter chamber. Use pressure water or compressed air not exceeding 1.4Mpa to inject the empty stomach formed between the built-in diaphragm and the core plate of the filter plate to bulge the diaphragm and squeeze the filter residue in the filter chamber. The water content of the filter cake can be reduced to below 60% , To achieve the same effect as adding lime powder, save the cost of adding lime powder by about 5%, and further reduce the cost of filter cake post-processing.